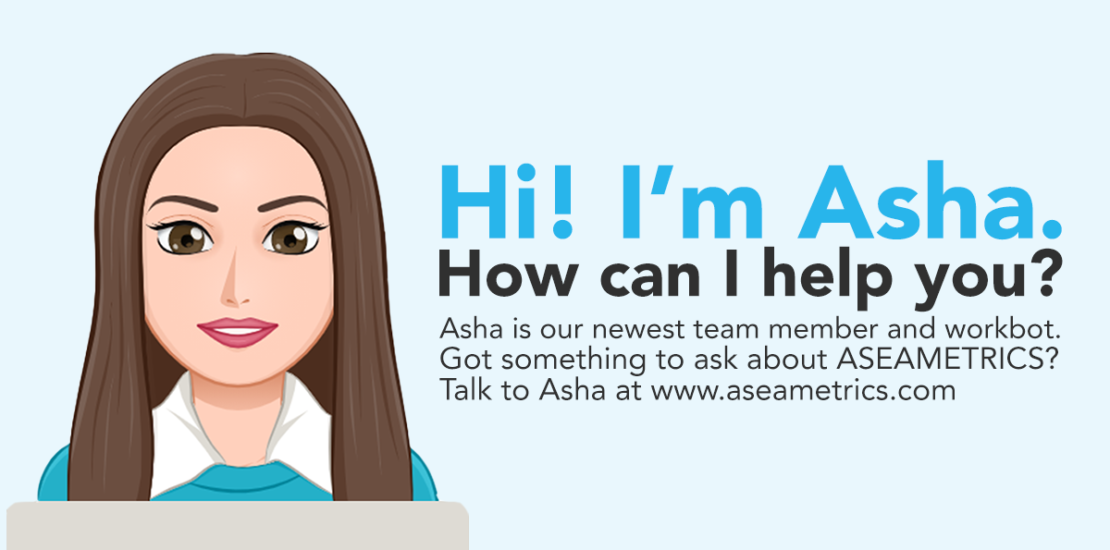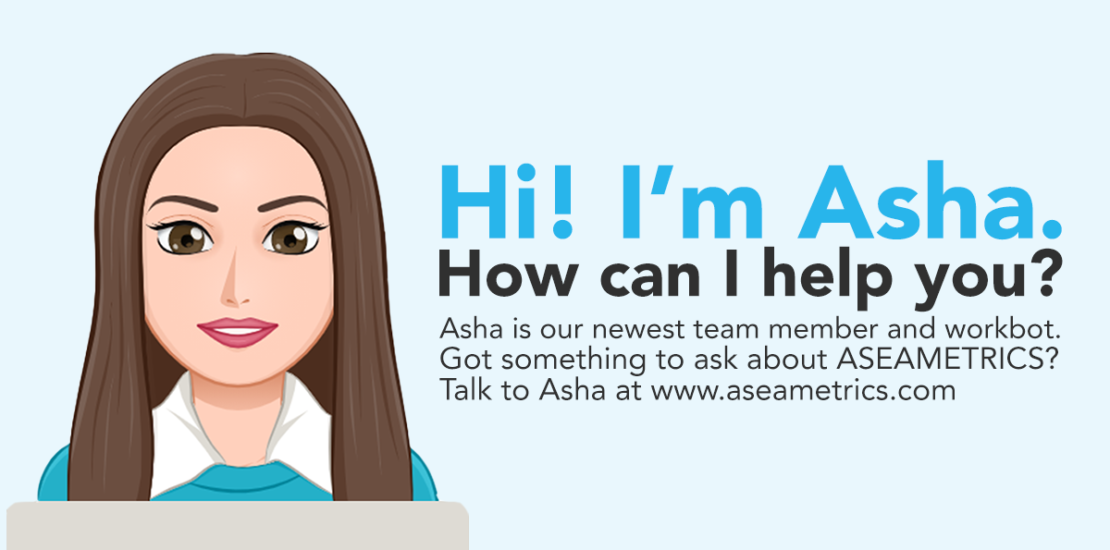 We are happy to announce that we have a new member of our team and that we have officially launched our first workbot on our website.
It's Asha's first day today!
We would like you to meet Asha. She is ready to answer your questions about ASEAMETRICS; what we do, our solutions and our partners. You can even ask Asha to schedule a meeting for you with our team.
What is Asha?
Asha is the first Botspice workbot in the Philippines. She was created to help our website visitors to get immediate answers and to support our team with customer engagement initiatives. She is a 24/7 chat support that is continuously learning over time. Asha is created using Botspice, an innovative solution for engagement, learning and upscaling your business brought to you by Diowise. Powered by Artificial Intelligence and Robotic Process Automation, you can also have your very own workbot with ASEAMETRICS' TalentBots.
Where is Asha?
Asha is on all the tabs of the ASEAMETRICS website. You should see a blue circular icon at the bottom right of your screen with two chat bubbles. Click this and ask away!
Where does my data go?
ASEAMETRICS together with Botspice does not disclose any information that users give out during a chat conversation with Asha. The only data that we will be gathering are those related to helping us serve you better. To be more specific, Asha will only ask about your name, current company, occupation, email address and phone number. Please do not give out any information regarding your home address, bank details, date of birth and any other personal information.
How do I talk to Asha?
As much as we would like Asha to be bilingual, she can only speak in English for now. However, you can always try to use certain keywords and she would still understand. Here are some of the questions that you can ask:
What is ASEAMETRICS?
What are your products and services?
When is your next event?
Can I schedule a meeting?
Can you tell me more about online assessments?
What are your online courses?
Have you tried talking to Asha? If you are interested in having a workbot of your own whether to engage with customers, manage your on boarding or support other business processes, you can do that with ASEAMETRICS' TalentBots.
Click the button below to know more about TalentBots.
ABOUT ASEAMETRICS
ASEAMETRICS is an HR Consulting firm established to provide solutions to help companies solve talent-related business problems. They are an expert at providing technology-based solutions to help companies identify, develop, and manage the human resource for business success, today and in the future.
Integrated into the company's high-impact services are advanced technologies through HR Avatar (for E-Testing), Udemy (for E-Learning and Competency Development), Arbinger (for E-Learning – Mindset Change), Withiii (E-Organizational Development), ESM (E-Strategy Management), and HopeChat VP (E-Psychological Services).