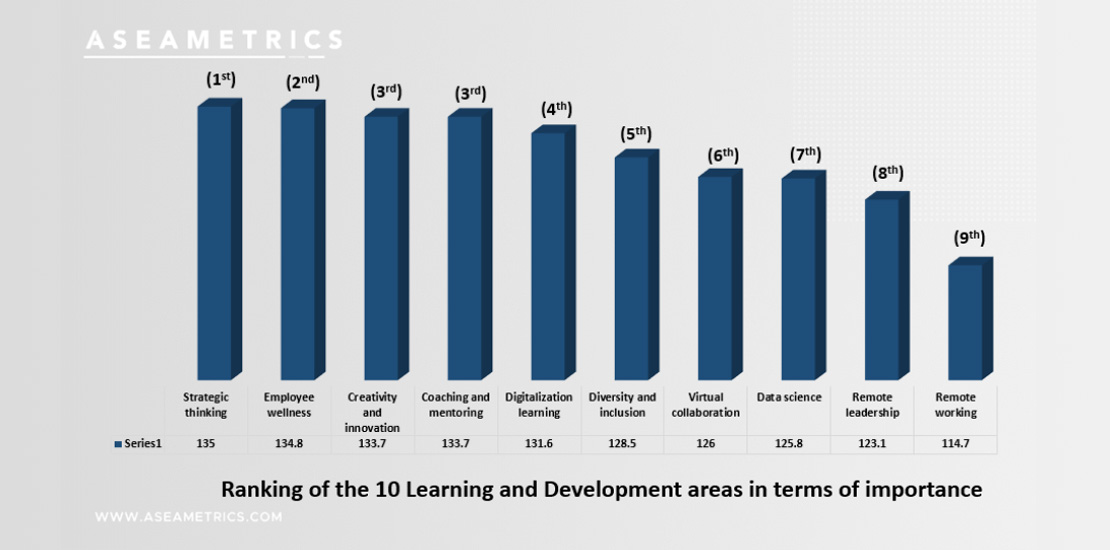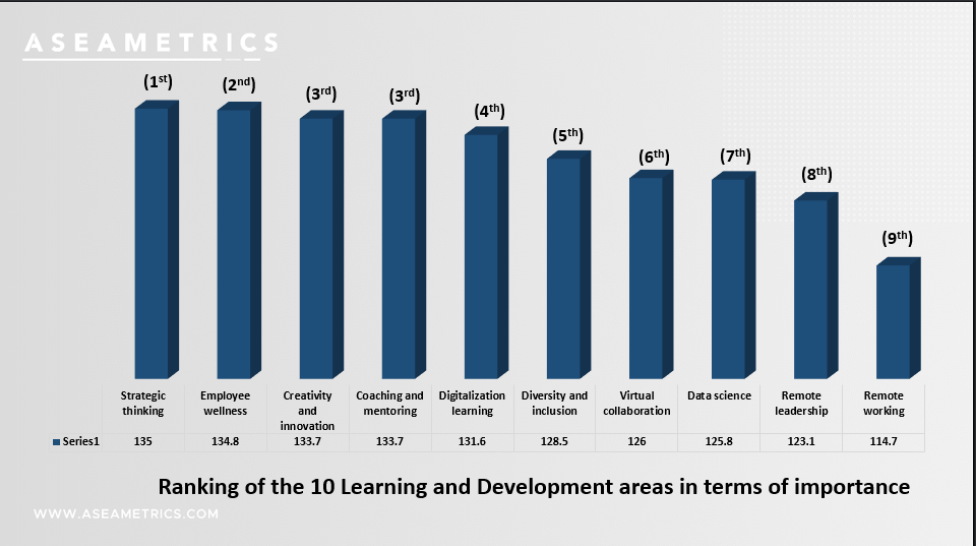 Were you able to join our webinar on building capabilities last April 27, 2022? Questions such as how to operationalize the 5-hour rule in learning and development, what the top surging functional and technical skills are, and how to evaluate online learning programs effectively – these were the top issues raised by the participants during the webinar.
Likewise, ASEAMETRICS conducted a spot poll on the top learning and development areas for 2022. The poll showed that strategic thinking remained the most important focus of learning and development efforts moving forward (see Table below). This was followed by employee wellness. Creativity and innovation and coaching and mentoring tied for the third spot. The results of the ASEAMETRICS survey validated observations that strategic thinking remains as one of the most valued power skills particularly as organizations navigate the exit from the pandemic. The focus on employee wellness validates the continuing focus on taking care of people.
The other areas that were ranked high in importance were: digitalization learning, diversity and inclusion, and virtual collaboration (rank 4th, 5th, 6th). The rankings were actually very close indicating almost equal importance.
Data science ranked 7th, followed by remote leadership, and remote working. The poll had a total number of respondents of 276.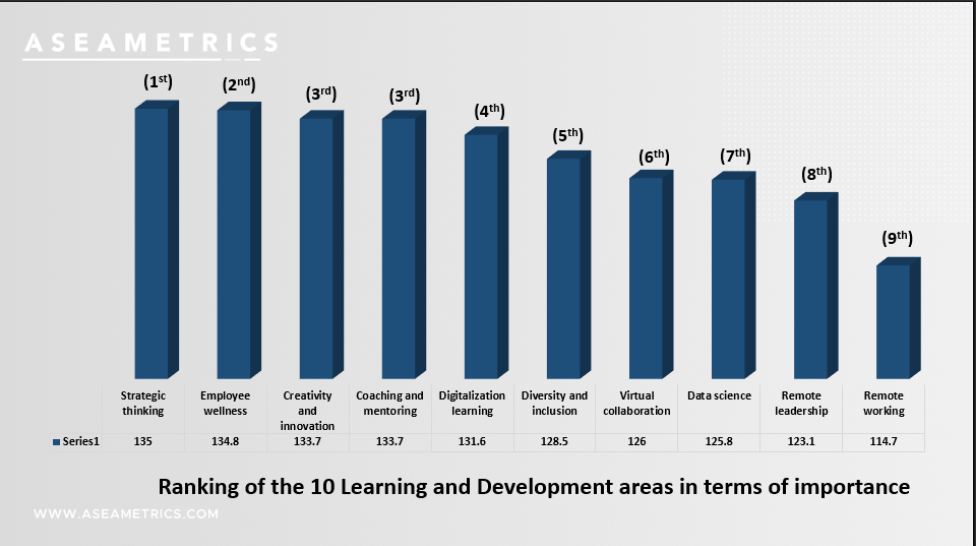 The webinar "SUREFIRE STRATEGY TO SUCCEED IN THE NEW NORMAL: Power Up Competencies to Unleash Capabilities (Part 2)" was the fourth conducted by ASEAMETRICS for the year.
Arthur Luis P. Florentino, former Executive Director of the Civil Service Commission's Civil Service Institute and 2012 PMAP President had a very interactive and thoughtful conversation on the "Challenges and Prescriptions in Building Capabilities in the Philippine Public Sector" with ASEAMETRICS' Vice President Bong Austero.
James Della-Porta, Director for Enterprise Sales for Asia Pacific of UDEMY shared insights on a variety of trends and challenges facing the learning and development function. He shared ideas on the top trends every HR & learning leader must consider in 2022, emphasizing the impact of each on employees, teams, and the organization. According to Della-Porta jobs are changing and artificial intelligence is taking over primary jobs, thus the pronounced need to transition people to different roles. He said power skills, which are skills that will not be taken over by machines, have become more important than ever. He said that working remotely has enabled more flexibility, but also contributed to a growing sense of isolation, thus the need for power skills that strengthen connections, collaboration, and productivity (CBB).
ABOUT ASEAMETRICS
ASEAMETRICS is an HR Consulting firm established to provide solutions to help companies solve talent-related business problems. They are an expert at providing technology-based solutions to help companies identify, develop, and manage the human resource for business success, today and in the future.
Integrated into the company's high-impact services are advanced technologies through HR Avatar (for E-Testing), Udemy (for E-Learning and Competency Development), Arbinger (for E-Learning – Mindset Change), Withiii (E-Organizational Development), ESM (E-Strategy Management), and HopeChat VP (E-Psychological Services).