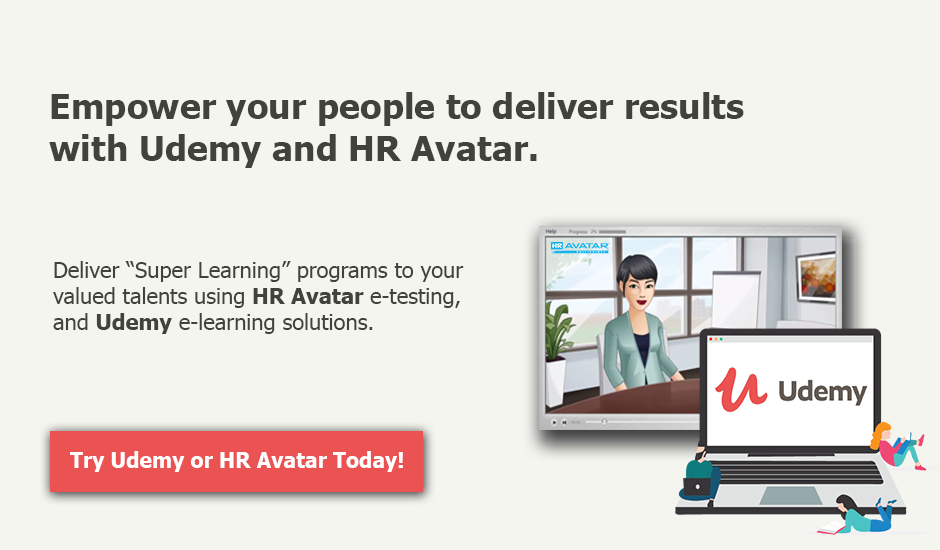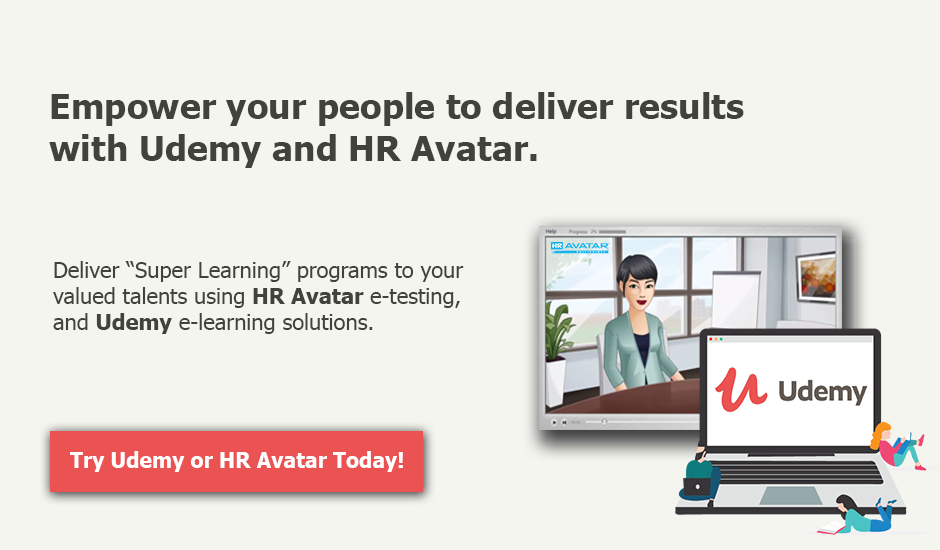 "The world is facing a reskilling emergency. We need to reskill more than 1 billion people by 2030."
-World Economic Forum
Luc Lutin of Deloitte Insights coined the term "Superlearning" as the need to reskill, upskill and outskill. During the pre-pandemic, the need for "Superlearning" came about due to the demand for new competencies given the shifting labor demographics, and the new digital revolution.

The COVID-19 pandemic has been instrumental in accelerating the digital transformation at the workplace. The impact of COVID-19 is requiring organizations around the world to equip their people new set of competencies to deal with substantial changes at work.

To set up your "Super Learning Programs" you need the combined power of two global online platforms.
AseaMetrics brings you HR Avatar and Udemy.

We are bringing you Udemy for Business. Identify the skills and competencies needed in the organization & strategically map out each employee's learning path. Gain access to more than 4,000 Udemy courses that are curated for business and a course builder feature that will allow you to integrate your existing training programs to an actual online training course.

As a manager, you can also track the progress of each employee to make sure that their training is up to date. Each learner will also get a Certificate of Completion each time he or she finishes a course. Many learning and development teams have already realized that reskilling the workforce is essential, but that learning as we know it will not suffice.

To fully maximize training programs & courses, it is imperative to have the right people to train in your organization. This is where HR Avatar comes in. HR Avatar is capable of providing you with a completely virtual recruitment & assessment platform that will allow you to evaluate a candidate with a whole-person approach that is job-specific. With the results that you would be getting, you would be able to immediately identify the strengths & weaknesses of the candidate in a very detailed report. You would know where the candidate would excel in and where he or she needs training.

A coin has two sides; in business it is always a concern for the employee & employer. We are offering you two solutions that can potentially create great impact in your organization's performance in both people & profit:
Udemy for Business– Empower your remote workforce to learn what they need, when they need it. Online learning from global experts across tech, business, wellness and more to help your employees do whatever comes next.
ABOUT ASEAMETRICS
ASEAMETRICS is an HR Consulting firm established to provide solutions to help companies solve talent-related business problems. They are an expert at providing technology-based solutions to help companies identify, develop, and manage the human resource for business success, today and in the future.
Integrated into the company's high-impact services are advanced technologies through HR Avatar (for E-Testing), Udemy (for E-Learning and Competency Development), Arbinger (for E-Learning – Mindset Change), Withiii (E-Organizational Development), ESM (E-Strategy Management), and HopeChat VP (E-Psychological Services).