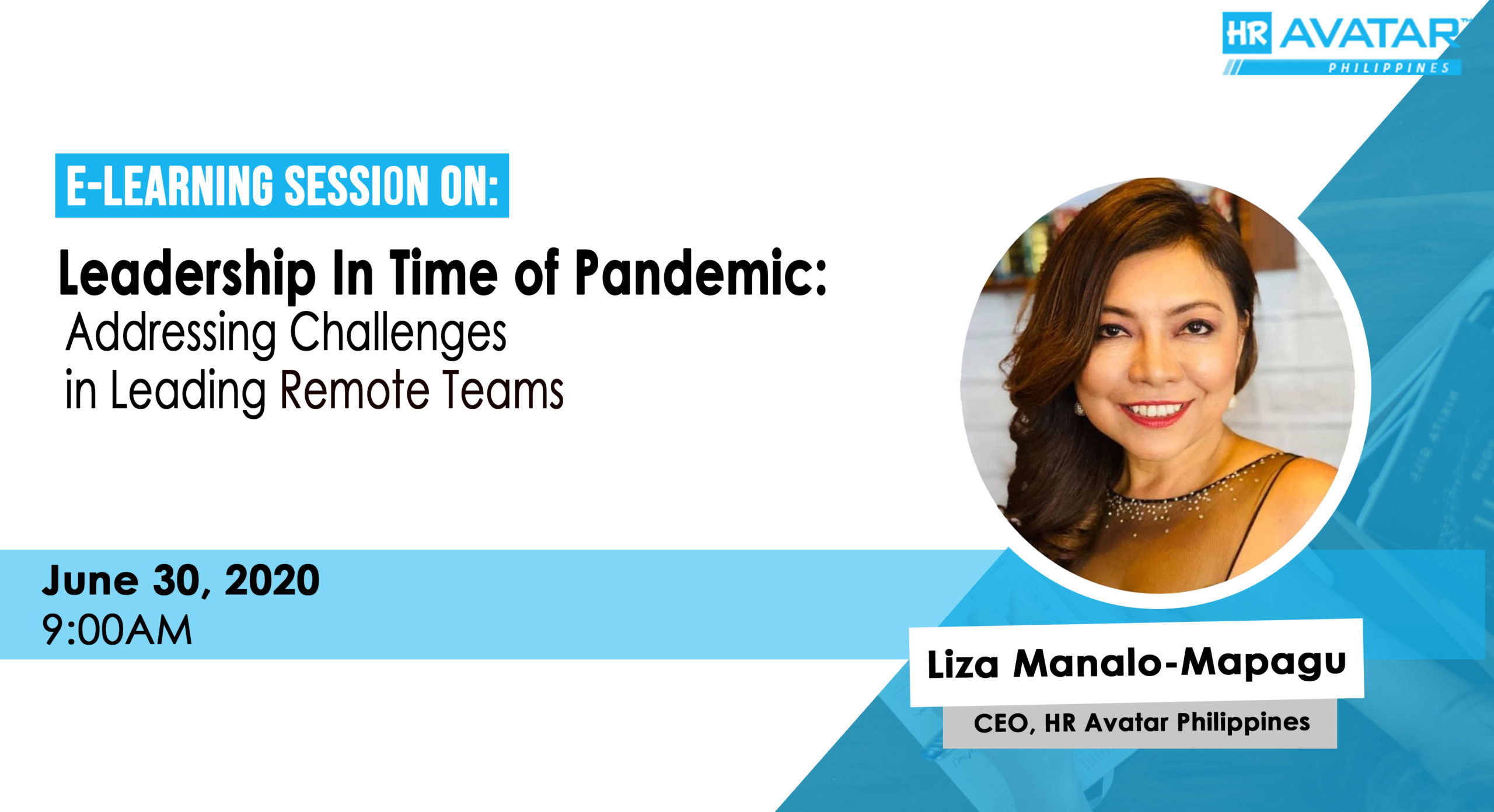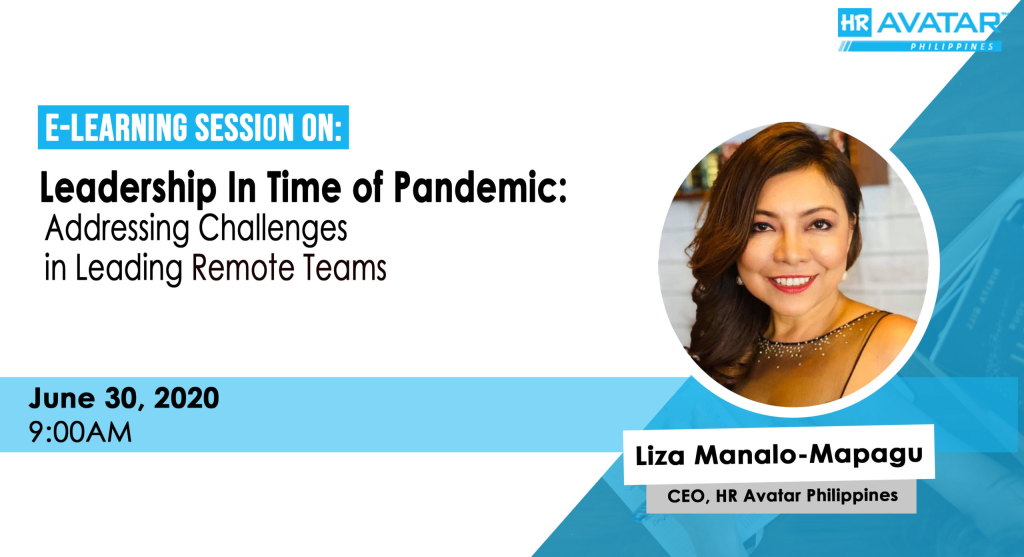 As HR Avatar Philippines celebrates their 6th anniversary, clients are invited to join this complimentary webinar hosted by Ms Liza Manalo-Mapagu and Mr Mike Valdes.
The webinar is titled "Leadership In Time of Pandemic: Addressing Challenges in Leading Remote Teams".
We are all facing unprecedented challenges brought about by the global COVID-19 pandemic. This situation is affecting the way we live including the life of our families, communities and businesses. Leaders are faced with the daunting tasks of shifting to a different work environment, and managing the people and business during a crisis period full of anxieties and uncertainties
The question leaders ask now is "What has changed in leadership and how best we can handle remote teams?" Proven leadership practices assume an office setting where teams meet and communicate face-to-face. The current WHF presents a number of challenges that have to be addressed to be an effective leader.
In this light, this session focuses on the following top 7 challenges faced by leaders and managers, and provide practical tips to address them:
1. Building Trust
2. Communicating Effectively
3. Optimizing Technologies
4. Managing Diversity and Individual Differences
5. Cultivating Social Learning and Love for Continuing Development
6. Building Positive emotional culture
7. Sustaining Engagement and Productivity
---
The resource person has garnered 30 years of experience in the field of talent management in her journey as an executive, trainer and consultant for more than 200 companies across industries in the Philippines and overseas.
Liza Manalo-Mapagu, the CEO of HR Avatar Philippines (www.hravatarasia.com), and Chief Solution Architect for HR Avatar Asia. She overseas the setting up of HR Avatar distributions in Asia
Her research interests related to remote management are: adopting situational leadership, and building positive emotional culture in leading remote teams

She specializes in success profiling, test development, and talent assessment for talent management initiatives. She earned academic and international certifications on Psychometrics.For the last three decades, she has been involved in various consulting projects on competency modelling, development of testing programs, employment testing outsourcing, and setting of talent management programs. She has proven track record in setting up and leading consulting companies, and promoting assessment technologies. She continues to conduct training programs for HR professionals as part of her advocacy in professionalizing the practice of Psychometrics in the Philippines and Southeast Asia.

Her industry consulting experience sprang from her posts as Consulting Director of Strategic Consulting Services and Assistant General Manager of Eduquest, Inc. She had ten years of working experience in the academe taking various leadership and teaching positions on assessment and human resource management.

She was the Head of Evaluation of De La Salle University-Institutional Testing and Evaluation Office, DLSU-Manila, and Directors of Center for Educational Assessment and Research, and Human Resource Development Center at the De La Salle-University-College of Saint Benilde.A BS Psychology graduate from the University of Sto. Tomas, she has a Master's Degree in Measurement and Evaluation at De La Salle University. She has earned academic units in a Ph. D course in Research and Evaluation at the University of the Philippines. She belongs to the first batch of licensed Psychometricians by the Professional Regulation Commission.She is a member of Society for Human Resource Management (SHRM) and Society of Industrial Psychologist (SIOP).
ABOUT ASEAMETRICS
ASEAMETRICS is an HR Consulting firm established to provide solutions to help companies solve talent-related business problems. They are an expert at providing technology-based solutions to help companies identify, develop, and manage the human resource for business success, today and in the future.
Integrated into the company's high-impact services are advanced technologies through HR Avatar (for E-Testing), Udemy (for E-Learning and Competency Development), Arbinger (for E-Learning – Mindset Change), Withiii (E-Organizational Development), ESM (E-Strategy Management), and HopeChat VP (E-Psychological Services).