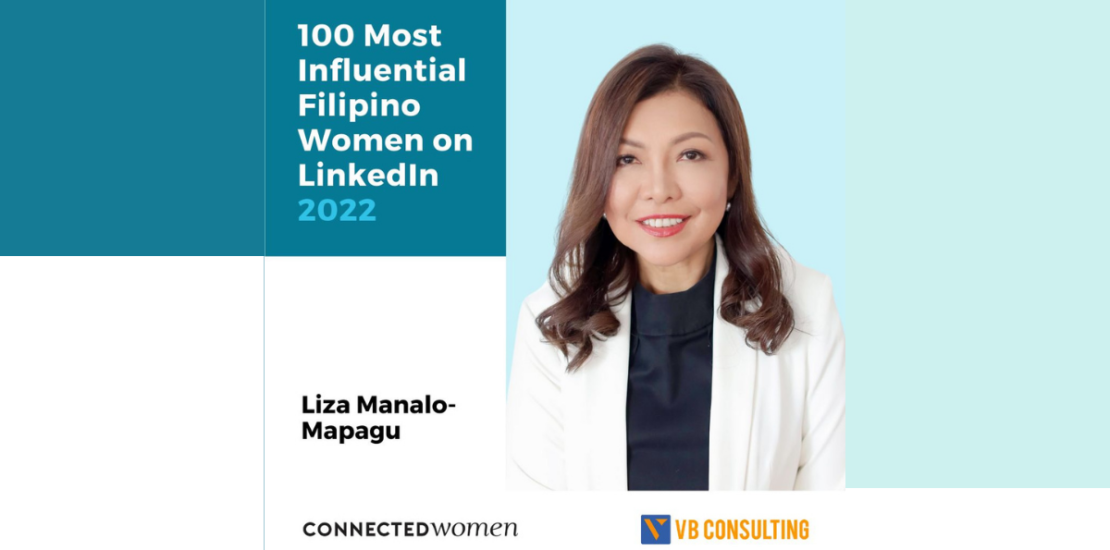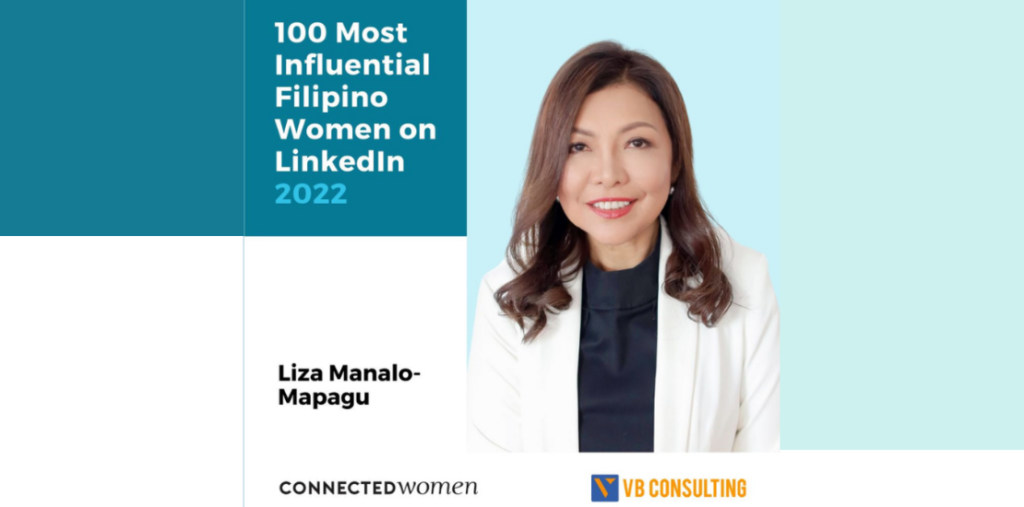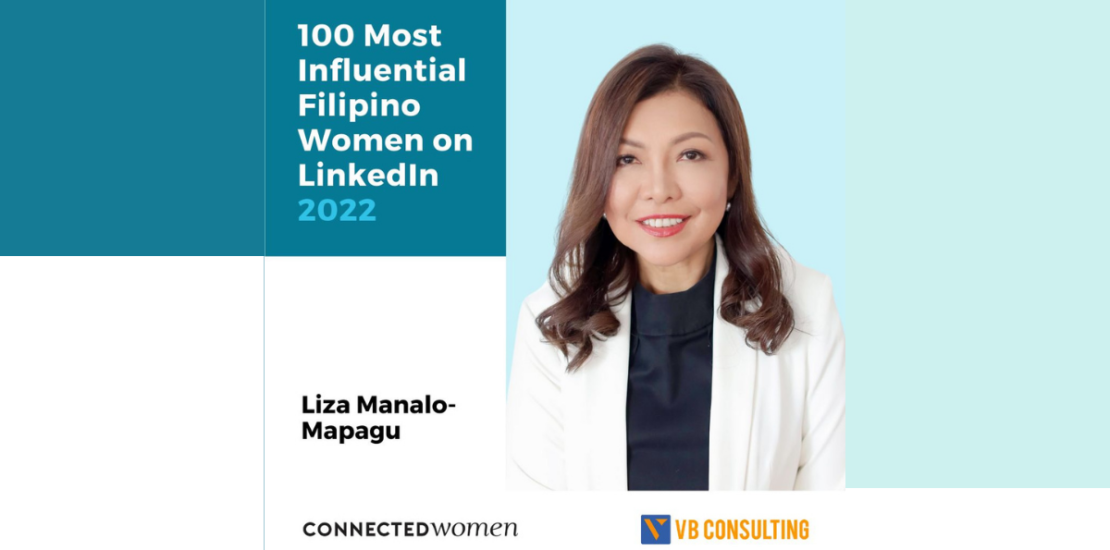 We are proud to announce the inclusion of our President and CEO, Liza Manalo Mapagu, as among the 100 Most Influential Filipino Women on LinkedIn for 2022 representing the HR Consulting and Technology industry.
Her recognition is validation of the strides she and ASEAMETRICS have made in breaking new ground for technology-based solutions in HR.
We, at ASEAMETRICS, salute all the exemplary women who also made it to the list.
We are quoting below part of the recognition citation.
About Liza Manalo-Mapagu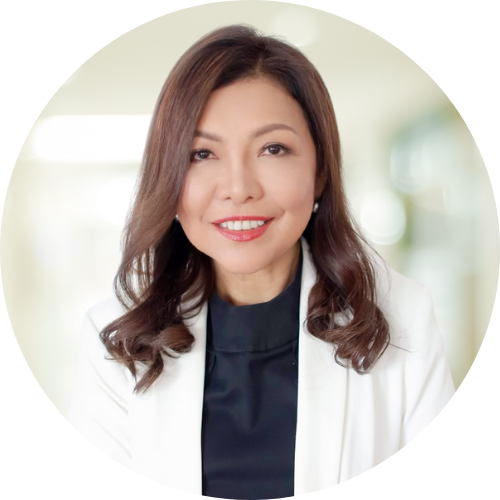 Liza Manalo-Mapagu is a leader who is breaking ground for women and blazing new paths in industry and society through her various passions and advocacies.
Touted as the country's assessment guru, Liza carved her niche in talent assessment with more than 35-years valuable experience in Human Resource Consulting covering a wide range of industries and in multiple settings here and overseas. As a visionary and thought leader in HR, she has successfully rolled out HR technologies in the Philippines and the rest of Southeast Asia. She has more than 17 years of experience as a CEO.
As the pioneering expert in assessment, measurement and analytics, Liza is currently CEO of ASEAMETRICS, a consulting firm that is at the forefront of building capabilities, creating value, and delivering digital, strategic, and integrated solutions to drive business results. She has distinguished herself as a thought leader in the integration of cutting-edge technology and the latest scientific developments in various HR systems.
A well-sought speaker and lecturer, and consultant in the areas of psychometrics, talent management, and digital transformation, she has been a resource person in various local and international conferences.
She continues to support organizations in the area of change management for C-Level executives through programs on "Leader-Led Talent Management", "Building Talent Analytics Culture" and "Strategic Management".
How do you use your influence to create a world that is diverse, equitable, and inclusive?
Inclusion as well as bridging the growing inequalities in our world, particularly as a result of the pandemic, is something that keeps me awake at night, given the values my parents instilled in me since childhood.
Firstly, I had to accept and believe in the fundamental principles of DEI (Diversity, Equity, and Inclusion). As a woman CEO, I continuously educate myself on DEI principles and set examples of how a leader can strategize to build a diverse, fair, and inclusive workplace. I subscribe to the principle that promoting DEI in the organization is everyone's job.
Aside from my professional development, I include the courses on valuing diversity, equity, and inclusion in our company-wide learning and development program. Every member of the organization is continuously educated on why DEI matter in the context of our core values of Compassion, Commitment, Collaboration, and Agility. Thus, we nurture a culture that has zero tolerance for discrimination, sexism, misogyny, bullying, sexual harassment, etc. We allot time in our regular daily check in and check out sessions to discuss personal matters that strengthen equity and foster inclusion. We provide employees access to tools such as HopeChat (online counseling platform for mental health and wellness concerns). We go out of our way to celebrate diversity.
As the ASEAMETRICS' Chief Solution Architect, I championed the inclusion of the principles of DEI on the models and design of our programs and solutions. For instance, we provide an objective assessment before an in-person interview minimizes the impact of the interviewer's bias. Likewise, we promote Arbinger Institute's Outward Inclusion and other online DEI-related courses to organizations can support strengthening DEI practice.
As a community leader, through my work with the Rotary and in my other involvements, I volunteer my services as consultant, trainer, and speaker/lecturer on topics that serve as springboard for discussion of equity and inclusion.
I am currently active in peace-building programs and professional development of Rotary leaders as District Peace Officer and incoming Deputy Director of District 3830 Rotary Academy. I am now educating Rotary leaders on DEI principles through our training programs and, in addition, being an active female leader in a male-dominated organization like Rotary supports and models welcoming diversity in volunteer organizations.
As a parent and wife, I ensure that my family respects diversity and inclusion. We endeavor to be community leaders in these aspects.
As a person, I am conscious of always being inclusive in thought, words, and in action.
The use of social media is a platform that I use to advance my advocacy on DEI. I hope to be more vocal in my stand and advocacy on DEI through our integrated communication and advocacy efforts at ASEAMETRICS.
What's your best advice for Filipino women to thrive in the new normal?
The impact of the COVID 19 pandemic, particularly on Filipino women, has been profound. In a poor country, women are poorer. And women balance the many social, cultural, psychological demands placed on their shoulders. Women struggle with work-life balance, juggling work, household, and the family's health and safety.
My advice to my fellow Filipino women is first, we need to elevate the consciousness of other women. Mindset is a powerful driver and obstacle for growth and it is time to break the mindset that asks women to settle for less or be less.
Modern Filipino women are driven, passionate, and goal-oriented. We both can manage our careers while remaining the house manager and light of the family. To thrive in the new normal, we need to continue providing the strength and energy for our family, and it requires a resilient woman.
Second, we need to empower ourselves and other women through self-care. We need to allow the women who have been superheroes of this pandemic to find ways to re-energize and take good care of themselves. Self-care is the foundation of giving. We cannot give what we do not have. Compassion begins from within. Mental health is essential. We need to manage our stresses well by being sensitive to our bodies and emotions. So we all need to serve as catalysts for inspiring other women.
And finally, my third advice for my fellow Filipinas is to be at peace with who she is and what she can be. We are mothers, teachers, grandmothers, doctors, engineers, chefs, nurses, domestic helpers, architects, leaders.
We can be who we want to be, we are who we are – no excuses and justification needed.
ABOUT ASEAMETRICS
ASEAMETRICS is an HR Consulting firm established to provide solutions to help companies solve talent-related business problems. They are an expert at providing technology-based solutions to help companies identify, develop, and manage the human resource for business success, today and in the future.
Integrated into the company's high-impact services are advanced technologies through HR Avatar (for E-Testing), Udemy (for E-Learning and Competency Development), Arbinger (for E-Learning – Mindset Change), Withiii (E-Organizational Development), ESM (E-Strategy Management), and HopeChat VP (E-Psychological Services).